Tower: Trials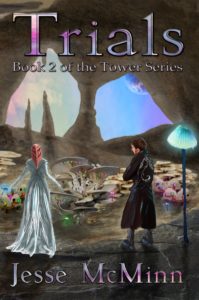 Though little time has passed since Kyle Campbell's fall into the mysterious world of Loria, its magic has already begun to reshape him. He has flown through the sky in a golden airship, and won a sword from a battle with a goblin chieftain. He is adapting, and his knowledge and power are growing.
However, the danger that shadows him is growing as well. A powerful enemy has learned of his existence, and will stop at nothing to track him down. Kyle needs to find a way home, and quickly. But before he can reach his destination, he is captured by the enigmatic Buors, and brought to their forsaken homeland to await the judgement of their king.
All the while, his relentless pursuers are closing in…
Kyle's greatest trials are just beginning.
The second book in the Tower series, Trials picks up where Loria left off. It continues the story of Kyle Campbell, a vagrant trapped in a mysterious and magical world. It chronicles his journey through the world of Loria as he attempts to understand, and hopefully reverse, the strange accident that brought him there.
Trials is currently available to pre-order through the publisher, IFWG.
Note: This book contains some mild language, alcohol use, and fantasy violence.
Tower: Loria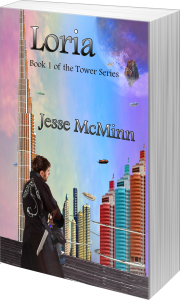 Kyle's life had reached a standstill. He had no job, no friends and no interest in acquiring either. All he wanted was an escape from his problems… to be alone. So it was on a whim that he bought his ticket aboard the SS Caribia, a small, cheap cruise ship headed nowhere. He never could have foreseen what would soon take place—the fierce storm, the accident that threw him to the waves. Now he finds himself in a strange new world, one he doesn't understand. A world where inhuman creatures live and study the secrets of magic, and golden ships sail the skies. Where armor-clad adventurers travel the world and battle monsters in search of fortune and glory.
Loria.
With the help of his newfound friends, Kyle must come to terms with this fantastic world, unravelling the mystery surrounding his arrival and learning of his own newly awakened abilities. But he isn't alone. There are others, powerful enemies who somehow know of his origin, and who are willing to do anything to capture him. He needs to find a way home—and fast. But does he even want to?
Loria, the first entry in the Tower series, is an epic fantasy novel written by me, Jesse McMinn, and is my first complete work. I'm proud to announce that the book is now available for sale directly through IFWG, as well as on Amazon in print and Kindle formats, as well as on Kobo and Nook eReaders.
Want to buy the book? Here are some links:
Note: This book contains some mild language, alcohol use, and fantasy violence.